Chief Executive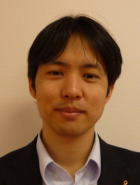 I spent 7 years working at audit companies and the Zeirishi-Hojin before setting up my own practice. I specialized in auditing, accounting consulting, tax advisory and tax return and I was responsible for managing the clients at those companies.
With this specialty regarding accouning and tax law, I will provide various services for my clients.
And also we have a large network of accountants, tax accoutants and other specialists who focus their professional expertise. I am convinced I can provide one-stop services for your complex issues.
Our policy
The concept of our office is that "we work as the managers of accounting develpment, human resources development, administration development, corporate planning development in your companies ourselves". Based on this consept, we will support you flexibly.
I had been engaged in auditing services and accounting services at an audit company since 2002, and tax return services and tax advisory services at Zeirishi-Hojin since 2007. But at each company we provided only their limited services within the scope of each business. So we provide our service without constraints between accounting services and tax compliance services and establish a system to provide both accounting services and tax compliance services.
We support your business based on our know-how and experience in the past.